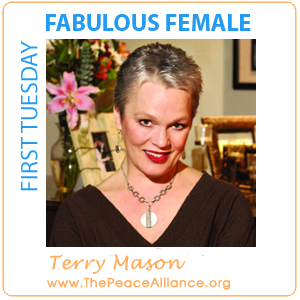 Terry Mason has enjoyed a few different careers, beginning as a singer with local bands in the LA area, followed by national tours of ANNIE, 42nd STREET and CATS. During a 6-year chapter in Chicago, she co-owned a relocation consulting firm called The May Group, acquired from First Tuesday leader Missy Lavender. Returning to Los Angeles in 1996, she began work with then SBC, now AT&T, continuing with Accenture beginning in 2010, where she supports AT&T's HR systems.
Her passion for peace stems from a desire commonly felt for a better world to leave to future generations. The Peace Alliance captured her attention in 2005 at a Marianne Williamson event, and she has found a place for this desire that is practical, concrete and productive. She is enormously grateful for the opportunity as a member of the Board since 2009, and for the national staff and many active volunteers she has met in the campaign.
Terry lives in Encino, CA with her wonderful husband, Paul Chepikian (www.lupineproductions.com), and their two dogs, Sully and Jenny.
Come and learn about a grass roots movement supporting historic legislation that is currently before Congress, which would work to prevent violence at the root cause thereby saving hundreds of billions of dollars, and proactively creating safer, more secure and more peaceful communities for everyone.
Come and learn important information about the levels of violence in our society and the under-publicized and under-funded solutions that currently exist, and how a cabinet-level Department of Peace — and other related initiatives — would effect a real change.
This is free. It's always free. And the rewards are beyond measure.
Sign up on the website to be on the email list — and you will become a political activist for peace!
While joining is free, and the rewards immeasurable — any social movement needs funding, and no donation is too small. Consider becoming a peace partner, for as little as $10 a month, to support the work of The Peace Alliance.
Join in the conversation, and the journey.
When gang violence is so prevalent, would you like to reduce it?
When youth suicide and homicide rates are soaring, would you like to lower them?
When LA County is planning to build more prisons, would you like to minimize the need for new prisons?
There are proven and practical programs and strategies that accomplish these tangible goals, and all of them would be supported and expanded by a Department of Peace. Ten years ago, in July of 2001, legislation was presented in the House of Representatives to establish a US Department of Peace — carrying on a movement that dates back to the days of George Washington. That same legislation has been introduced in every session of congress since — and so much has happened during those ten years! Once a small group of dedicated volunteers, The Peace Alliance now represents a national coalition of activists and organizations that number nearly 100,000 — and we are marching towards having one million peacebuilders engaged.
The Peace Alliance is working towards three initiatives:
– Spotlighting the Faces of Peace — from the rock stars to the everyday folks that are making peace happen in our world
– Legislative Advocacy – supporting federal legislation that will provide infrastructure to bring peacebuilding to the center of our policy priorities
– Building Community – bringing together the organizations and individuals who are making it happen, now
Other places to connect with Terry and The Peace Alliance:
Join in the conversation and the journey with Terry Mason!