See what the families had to say about the LA First Tuesday Circle of Giving Projects…
FROM: 2009 LA First Tuesday Circle of Giving Recipient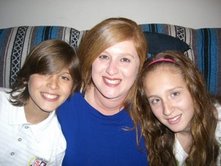 Dear First Tuesday,
We would like to thank you so very much for your kind hearts, your hard work and for making out lives so much easier to get by. Thank you for the healthy food that you came by with on 3 different occasions. Thanks to you, we love our new dining room table and chairs that are not falling apart like the old one! Thank you for the DVD/VCR player. Now we are able to tape educational videos for our family to learn from. Thank you for the microwave. Our oven is broken so thank god we have are still able to fix a warm bowl of soup for winter. Thank you for the gifts cards so that I could buy new shoes for my kids that fit and have cloths for myself that aren't faded, ripped or with holes. Thank you for the beds for my children. Thank god for that. Their backs no longer hurt and the sheets and comforters are so nice and comfortable for them to sleep in. Thank you for the couch. It doesn't sink when we sit on it like the old one and now I don't have to sleep on the floor. Thank you so much for paying for my son's Summer Camp. Without your help he would not have been able to go and I would have lost my job. Thank you for paying for my daughter's after school program so that she wouldn't have to be at home alone all day and could have supervised activities. Most of all……thank you for caring and sharing so much with us…..God bless you…..Pamela
FROM: 2007 LA First Tuesday Circle of Giving Recipient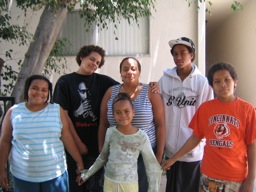 Home is where you should feel the most comfortable and relaxed. My home was everything but comfortable and relaxed. I am a single mother trying to raise five children alone, in a 2 bedroom very small living space. Before I met Marcy Cole and First Tuesday, it was a very cluttered, dirty and barren environment that needed MAJOR improvements. Every penny of my 40 work week making $11 an hour goes toward rent and food. I had no money to buy my children beds to sleep on, a dining room table to eat on, couches to sit on and everything else for a home. I would often watch those makeover shows dreaming that one day I would be able to have a nice space for me and my children. In December of 2006, a fire destroyed my mother's home that had many of my belongings, The Boys and Girls Club approached me when I came to pick up my children, asking permission to give out my number to a women's organization that wanted to help families in need in the community. I agreed with reservation. I have to admit, I was not very open to having someone come into my life because I was so ashamed of my apartment and the way we were living.
But, I remember at the end of my first conversation with Marcy she said, "We are not here to judge. We are here to help. Sometimes you have to let the Universe bring you whatever blessings it has in store". . So I said, "OK…YES!". Looking back on my experience, I was humbly overwhelmed and extremely grateful to everyone who was so generous. It seems that they came into my life out of thin air, like angels. I have the memories on CD and sometimes I sit alone watching our miracle unfold in front of me again and it still touches the very depths of my soul. The spirit of First Tuesday went far beyond just making over my apartment. I ended up with an extended family and a new spiritual home-Agape International Spiritual Center, under the direction of Dr. Michael Bernard Beckwith, Marcy & First Tuesday introduced me to Agape and because I loved it so much from the beginning, encouraged me to go every week as our "spiritual vitamin". I have been attending on a weekly basis for over a year now which has been helping me and my children transform our lives from the inside out.
We feel so blessed be recipients and now participants in such a life changing experience. Thank you First Tuesday for giving me and my children a place we can finally call home!
FROM: 2009 LA First Tuesday Circle of Giving Recipient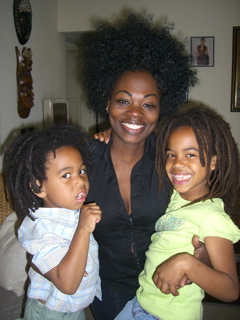 Date: May 11, 2009
Hi First Tuesday! I am Mijan (Michelle) Owens. The singer who sang for you at your LA First Tuesday gathering in April. I'm a single mom, part time programmer assistant and a full time student at West LA College.
I want to thank First Tuesday Circle of Giving representatives for coming into my home on Sunday March 2009. Every time I think about what has happened I can't help but to cry. I am soooo moved.
I was on my way to being homeless. After becoming unsuccessful in getting emergency funds from the County, I had no where else to turn in a short amount of time. I was referred to my church (Agape) to a young man name Rev. Leon. I spoke to him about my situation. I clearly told Rev. Leon about my ex leaving the home. I was falling behind my rent and utilities. I continued to pray and work hard. I said being homeless is not an option for me and my children. I said whatever it takes so be it. I continued to perserve through everything. I knew my studies was important for me. But most of all my children.
Rev. Leon told me about First Tuesday Circle of Giving. I was excited but I didn't want to depend on anything because i was already let down. I didn't know what to really expect. I spoke to Marcy and the most beautiful thing happened, I call them my DISCIPLES. The Disciples came to my home. Their presence was powerful, exciting, beautiful, shining and most of all LOVING. They have blessed me like no other. Because of First Tuesday generously sponsoring payment of my rent and utilities for 2 months, it left me a window to BREATHE and not STRESS about tomorrow and it allowed me to roar to the top in my academics. I was able to concentrate on my children and my studies. In doing so, I achieved not one but 2 scholarships and I made it on the Deans List for achieving high academics. THIS COULDN'T HAVE HAPPENED WITHOUT FIRST TUESDAY CIRCLE OF GIVING! I was chosen for the Steib Scholarship Award ( Chancellor Drummond from UCLA) and Jan Allan scholarship from West Los Angeles College. I wish I can have all of you walk into the "ceremony" they are calling it… of my excellence!
I am not done yet with how much you all have blessed my life. I haven't told Marcy or Carla, (a FTCOG steering committee member who has been generously been giving her time to coach me) but now you know, I recently was chosen as a recipient to attend UC Berkeley. UC Berkeley is flying me to their campus on June 17 – 19th. UC Berkeley chose me 2 months ago to do a summer semester. Because of my "not knowing who UC Berkeley was", I was totally oblivious, I said no to their offer. So this lead me to do some research and I was told how hard it is to get into that school and that there are students who are doing everything to get into UC Berkeley. I was chosen from a few great Universities, like Columbia University and UCLA. I do keep in mind everything I do must include my children. The univiersities must have family housing. Like UC Berkeley and UCLA they do accomodate families.First Tuesday, I realize sometimes in life its not that we lack knowledge, we lack the ability in what to do in unexpected circumstances. I know I can achieve academically but when unexpected situations happens you can either sink or swim. I chose to SWIM and not look back.
I THANK FIRST TUESDAY FROM THE BOTTOM OF MY HEART FOR BEING A HUGE PART OF MY SUCCESS. I WILL NEVER FORGET YOU. I HAVE NO CHOICE BUT TO BE SUCCESSFUL BECAUSE OF SOULS LIKE YOU.
Much Love,
Mijan Owens
Letter Received March 5, 2010
Greetings Marcy,
How are you doing? I know all is great. You are beautiful as always. Well I have so much to tell you…Wow the blessings keep happening!!!! I don't know where to start. Before I start, let me tell you I have a nice dinette table and 4 leather (real leather) chairs to give away. It has been in my storage for a year. I have no more use for the furniture and I have a lexmark printer to give away too. I am upgrading.:-) If you know anyone that can use the table & chairs, please let me know asap.
Now as far as my life goes, I was offered a job in Italy. I am relocating to Europe for a year with my beautiful children. Yep! I am departing in June. I am tooo excittteeeddd. I cant sleep some nights. While I am there in Rome, I am attending American University in the Fall 2010 while my babies attend The New School of Rome. I am on my way to doing big things for the universe. I am grateful for you and First Tuesday. I will always have you in my thoughts while I am pursuing my studies in International Relations.
You have touched so many souls, and of course you have given me the road to freedom in receiving my education. I don't think you, Marcy understand what miracles you and First Tuesday have done for soooo maaaannnnyyyy families. You will always be highly respected in my world. LOL You are so responsible for my appetite for more education.
You have allowed the higher power to give me and other woman to stand in our Power. I am standing. Every time when things got sooo rough, every time when I wanted to throw in the towel and say, "I don't think going to school is worth it", every time I couldn't sleep at night worrying about surviving and feeding my babies, it was brought back to me, remember what my First Tuesday community disciples did for me:-) Remember the sacrifice. Don't let it go in vain. Show myself and First tuesday you can do this. Take the strength they endured by helping and stressing for the many families they have helped. Mijan don't let their works go in vain. Push, keep pushin Mijan, push, push and push."
Marcy I have done it. I am so in tears as writing this because it was so hard, but I made it! I have done it! And now I can't get enough. I am happy and proud to say I am studying International Relations so I can also become a Philanthropist along with Musician Healing.
With the degrees in both I will be able to teach, give (like I want to) and come back and help run your organization…LOL but really travel where ever the universe has me to go for the better of mankind.
Love You So Much,
Mijan